Alloggiamenti, affitti , Camere in famiglia in Bretagne
Guest house

Practical and friendly, here is what summarizes the formula of guest houses. Whom you are only or in family, come to spend one or several nights at the inhabitant. It is as a friend that you will be welcomed by the host and the hostess who can make you discover the local specialities during the meals which will be proposed to you.
Iscrivere il vostro punto turistico in Bretagne é gratuito
AGAY Jean Michel
L'Isle
22300 Ploumilliau (Côtes d'Armor)
Tel : 33 (0)2 96 35 39 90
- Cellulare : 06 03 75 77 25

bonnichon yves
kervodin
22500 Paimpol (Côtes d'Armor)
4 guest rooms and 2 cottages 2 clévacances 900m from the pier bréhat, 600m lamer, beach, hiking, GR34, breakfasts offered to bed and breakfast, bed linen provided for gites, pets allowed, Cheques ...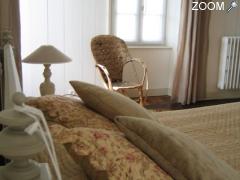 LE BRAS Isabelle
3, place Charles de Gaulle
56650 Inzinzac-Lochrist (Morbihan)
Dans l'arrière pays de Lorient, à une 20aine de minutes des plages, en Bretagne Sud, le Clos des Simples abrite une très belle suite pleine de charme pour 2 personnes. Tarif : 60 euros

Fraboulet
Edith et Léon Fraboulet
35350 Saint-Méloir-des-Ondes (Ille-et-Vilaine)
Welcome to our old farm renovated,
you can relax in a lovely garden. You can go to the beach "petit Porcon" and the path of the coast in 5 minutes.
At 5 minutes of Cancale, 15 minutes of Saint Malo, ...

Gaudin
18 rue des Terre-Neuvas Mordreuc
22690 Pleudihen-sur-Rance (Côtes d'Armor)
Tel : 02 96 88 24 70
- Cellulare : 06 87 77 77 08
traduction en cours

Debbie White
Chambres d'hotes de Bellevue, Bellevue, 56350 Beganne
56350 Béganne (Morbihan)

Duhamel Nadine
Petites chapelles
35720 Saint-Pierre-de-Plesguen (Ille-et-Vilaine)

LERAY Dominique
1rue du bout de la ville vilde la marine
35120 Hirel (Ille-et-Vilaine)

Iscrivere il vostro punto turistico in Bretagne é gratuito