Accommodation, Bed and Breakfast dans les Côtes-d'Armor
Add to my travel notebook
Register your touristic spot dans les Côtes-d'Armor it's free (in French)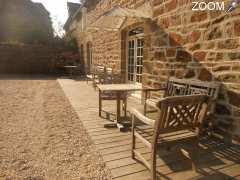 TVORG-705220
Update informations



Disponibilités
Gaudin
18 rue des Terre-Neuvas Mordreuc
22690 Pleudihen-sur-Rance (Côtes d'Armor)
Phone : 02 96 88 24 70
- Mobile phone : 06 87 77 77 08

http://www.lejardinmordreuc.com
Mordreuc at the edge of the Maritime Rance, "a village where the plough and doris are a stone's throw" Chateaubriand in the Miller's House, where we will be delighted to welcome you, we offer two rooms 'Cabin I' and 'Cabin II' comfort and the dining room "the galley" where we serve you hearty breakfasts.
For your parking, don't worry, we have a closed court. If time permits, you can lie down, play in the garden in the shade of cherry trees, swim to Mordreuc Beach and may also see our seal... Our nearby restaurants: La Cale de Mordreuc 150 m, and in Pleudihen, 2km, La Fleur de sel (crêpes), La Brochetterie (pizzeria) Dinan to 10 mn, St Malo 25 mn, Cancale 25 mn, Le Mont Saint Michel 45 mn, Dol de Bretagne and its mount 15 mn, Dinard 25 mn, Fort Lalatte and Cap Fréhel 60 mn are a few large sites known in the surrounding area.
You can also walk on the banks of the Rance, admire St Suliac, La Richardais, Montmarin and its gardens, see a former viking camp, pass on the dam of the Rance (factory driving tidal power) and even visit...
Register your touristic spot dans les Côtes-d'Armor it's free (in French)