Art and craft, Art, Craft and Gallery dans le Morbihan
Add to my travel notebook
Register your touristic spot dans le Morbihan it's free (in French)
See accommodation nearby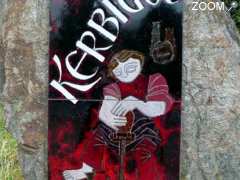 TVORG-822721
Update informations
Disponibilités
Goualc'h
Kerbigot Bas pouldu
56520 Guidel (Morbihan)

http://www.ceramiquesdekerbigot.fr

https://www.facebook.com/ceramiquesdekerbigot
The unique Alchemy of stone, glazes and fire made the lava an ideal medium for most artistic expressions.
It can be cut and shaped with precision.
Read-only and not frosty, lends itself to indoor and outdoor decoration.
For more than forty years we offer our expertise and know-how of the scenery on lava.
All the creations of the Kerbigot ceramics are made by hand in our workshop.
We offer decorative house numbers, House plaques, funeral plates, decorative frescoes inside and outside. Plaques of lava, of residence, street, signs and tables plates orientation...
Register your touristic spot dans le Morbihan it's free (in French)