Accommodation, Cabanes, Roulot, Yurt dans le Finistère
Add to my travel notebook
Register your touristic spot dans le Finistère it's free (in French)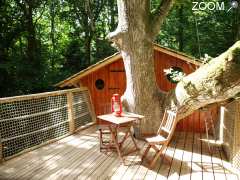 TVORG-753491
Update informations


Disponibilités
Sabine de Kermenguy
Château de Kermenguy - 29233 CLEDER
29233 Cléder (Finistère)

http://www.kermenguy.org/index.htm

https://www.facebook.com/pages/les-Cabanes-de-Kermenguy/335290867526
A paradise of accommodation unusual huts perched, attempts to Lodge or Saharan, Bubble, make your choice!
In order to relive their childhood dreams visitors, several lodging flourished at the edge of clearings of Kermenguy since 2008. Each accommodation has a terrace corner where is served the breakfast... > in the Woods: huts perched several metres high in the heart of the Woods: to reconnect with his childhood dreams or escape by taking height. Daffodil cabin at 6 metres from the ground can accommodate an accompanied by family with two children while the Stars Shack perched at 10 meters in height made the delight of adventurous couples..
A third hut perched at Kermenguy! In June, a new cabin has just opened. Cabin "Nest Clos": a cosy nest decoration Bretonne. The originality of this hut is that the bed has been installed behind a real facade of closed bed (original Quimper Cornouaille) with its trunk bench, giving a typical atmosphere of intimate to 12 metres high. A totally new way to honor the breton heritage! > At the edge of the Glade: funny houses. For those who wish to discover or rediscover the joys of the tent and nights under the stars: 200 metres from the Castle opens a beautiful clearing or three tents await their guests. The tent Lodge Victoria and its terrace facing South, the Saharan clear and comfortable allow a direct contact with nature. Finally, the Bubble Room 'Castle', first of its kind to be installed in Britain, made the delight of lovers. White, round and transparent, with full furniture allows to enjoy a panorama of 360 ° view of the surrounding nature and the stars after nightfall. The Château de Kermenguy is located in a haven of unspoilt nature, in the middle of a field of 38 h, Cleder in Finistère, just 7 km from the beaches of fine sand (and 40 minutes from Brest, 20 minutes from Roscoff and the île de Batz, of Carantec and 35 minutes from Morlaix). The huts are without water or electricity, but comfortable: Beds are made upon arrival, lighting by lanterns to candles, light plates, dry toilets, water and SOAP for a toilet in the cabin. The morning breakfast is delivered, it remains more to hoist it in huts, and enjoyed on the terrace.
An experience to try, naturally!
Register your touristic spot dans le Finistère it's free (in French)