Accommodation, Bed and Breakfast dans les Côtes-d'Armor
Add to my travel notebook
Register your touristic spot dans les Côtes-d'Armor it's free (in French)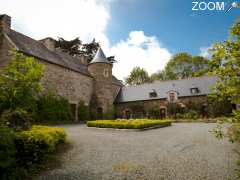 TVORG-770501
Update informations
Low season of 70€ to 130€

High season of 80€ to 150€


Disponibilités
Bastien Guillou
lieu-dit Troguindy
22220 Tréguier (Côtes d'Armor)
Phone : 02 96 43 90 88
- Mobile phone : 06 52 03 49 11

http://www.manoirdetroguindy.com

https://www.facebook.com/troguindy
Welcome in rooms of the Manor of Troguindy!
To choose from, you'll have the chance to sleep in one of our rooms, the House of the Park, where the Board of the Tower, planned for a couple, or in one of our suites, the suite Jacques Cartier, where subsequently Sant Erwan, which can accommodate up to three adults.
The manoir is located in the hollow of a small valley, along a river, referred to as "the Guindy" small tributary "Jaudy", which runs along Tréguier, city of character, then go into the sea not far away...
Come and discover the Saint Tugdual Cathedral, the old Port in Tréguier, cobbled streets, many hikes in the area, or the ride in our park of 8 hectares...
Our accommodation is located at equal distance from must-see sights of the region: the island of Brehat, the Château de la Roche Jagu, the pink granite coast, the seven islands...
To joy to receive you in our bed and breakfast!

Register your touristic spot dans les Côtes-d'Armor it's free (in French)