Accommodation, Hotels dans les Côtes-d'Armor
Add to my travel notebook
Register your touristic spot dans les Côtes-d'Armor it's free (in French)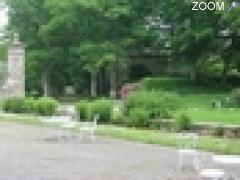 TVORG-5338
Update informations
Disponibilités
Manoir du Vaumadeuc
Le Vaumadeuc
22130 Pléven (Côtes d'Armor)
Phone : 02 96 84 46 17
- Fax : 02 96 84 40 16

http://www.vaumadeuc.com
Between St Malo, Dinan and St Brieuc, 3 hours from Paris by train, the manoir de Vaumadeuc, XVth century historical monument offers you the peace and quiet of an authentic and magical site.
This stone heaven in the heart of Penthièvre, will give you for a moment the sensation that time has stopped to welcome you and your friends, leaving the subtile charm of the pass centuries reappar, making your stay become unforgettable.
wooded park,french style gardens, carved beams, monumental cheminies..
Register your touristic spot dans les Côtes-d'Armor it's free (in French)