Gastronomy, Other delicacies in Brittany
Other delicacies

In the course of your promenades, discover local specialities for the eyes as the papillae
Register your touristic spot in Brittany it's free (in French)
Ferreira
ZA de Bordilla
56360 Le Palais (Morbihan)
Biscuiterie La Bien Nommée, biscuiterie artisanale située à Belle Ile en mer. Boutique en ligne des biscuits de la Bien Nommée : vente en ligne de spécialités bretonnes, galettes fines au beurre ...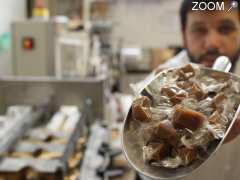 Jennifer Guella
1 rue du Brocanteur
35260 Cancale (Ille-et-Vilaine)
Located between the Mont-Saint-Michel and St Malo, La Maison Guella opened his workshop to the public in 2011. This traditional company continues its family traditions from father to son since ...

Sylvie Lantinier
La lande des bois
35380 Maxent (Ille-et-Vilaine)
Phone : 02 99 06 77 25
- Mobile phone : 06 37 33 07 69
Fabrication artisanale de sirops de fleurs et d'épices (coquelicot, gingembre,violette, piment, épices, bissap, badiane........,) vins médiévaux. (Hypocras, moretum, élixir du dragon....)
,

les korrigann es
rue des fontaines
22260 Pontrieux (Côtes d'Armor)
Phone : 02 96 95 12 46
- Mobile phone : 06 08 01 17 182

Register your touristic spot in Brittany it's free (in French)